Pull-On Skirt Perfection: Fashion Rules for a Flawless Look
In the ever-evolving world of fashion, certain items remain timeless due to their versatility and ability to elevate any ensemble. One such classic piece is the pull-on skirt. Effortless, yet elegant, the pull-on skirt offers a range of styling options that can transition from casual brunch dates to formal evening affairs. However, achieving that flawless look demands a keen eye for detail. In this guide, we shall delve into the essential rules to perfect your pull-on skirt ensemble.
The Basics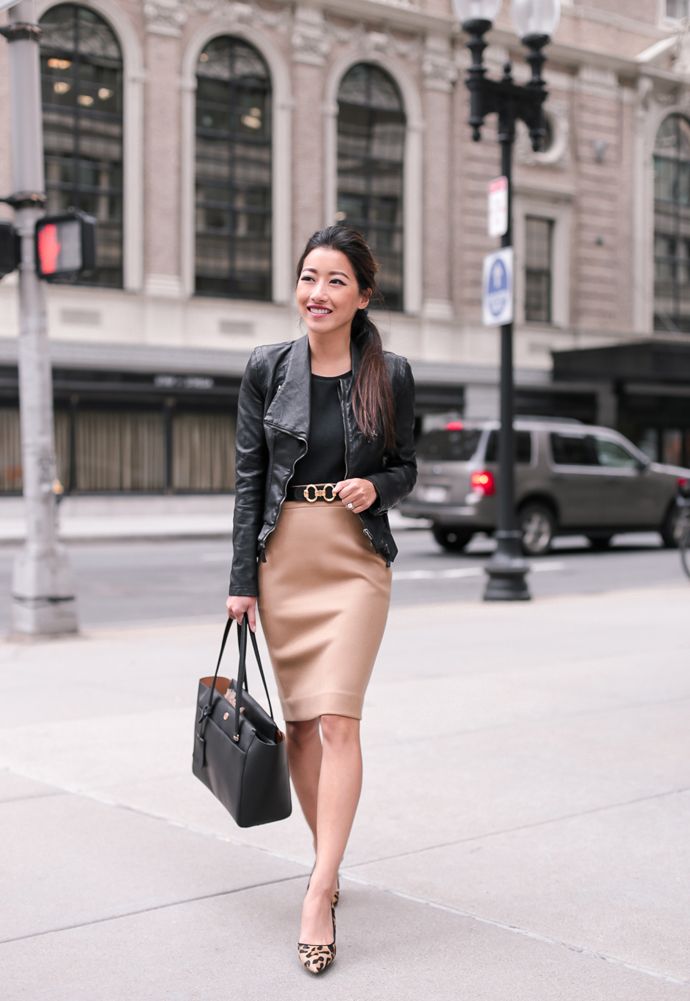 Fabric Choices: Women's pull-on skirts come in an array of fabrics, from soft cotton to luxurious silk. The fabric plays a pivotal role in determining the skirt's drape, weight, and overall appearance. For instance, a lightweight chiffon provides a floaty, ethereal look, while a knit fabric offers a more form-fitting silhouette. Recognize the occasion and choose accordingly.
Skirt Lengths: There are primarily four lengths to consider – mini, knee-length, midi, and maxi. Each has its charm and appropriateness for various occasions and body types. For instance, a midi skirt often works wonders on petite women when paired with heels, while maxi skirts can be universally flattering.
Elastic Waistband: One of the defining features of the pull-on skirt is its elastic waistband. Ensure it's neither too tight (causing discomfort) nor too loose (risking wardrobe malfunctions).
Selecting the Right Fit
Body Shape Considerations: Pull-on skirts can flatter every body type, provided you understand your shape. For instance, those with an hourglass figure can opt for skirts that cinch at the waist, while A-line skirts can be quite complementary for pear-shaped bodies.
Volume Balance: Remember the rule of balance. If the skirt is flowy and voluminous, keep the top relatively form-fitting. On the contrary, if the skirt is snug, you can pair it with a looser blouse or top.
Pairing Tops
Tucked, Untucked, or Half-tucked: The way you wear your top can drastically change your outfit's vibe. A full tuck offers a neat appearance, emphasizing the waist. The half-tuck is more casual and trendy, while leaving the top untucked can be great for a relaxed or layered look.
Crop Tops: For those confident to show a sliver of skin, crop tops with high-waisted pull-on skirts can be a trendy choice. It adds a touch of modern flair to your ensemble.
Footwear Fundamentals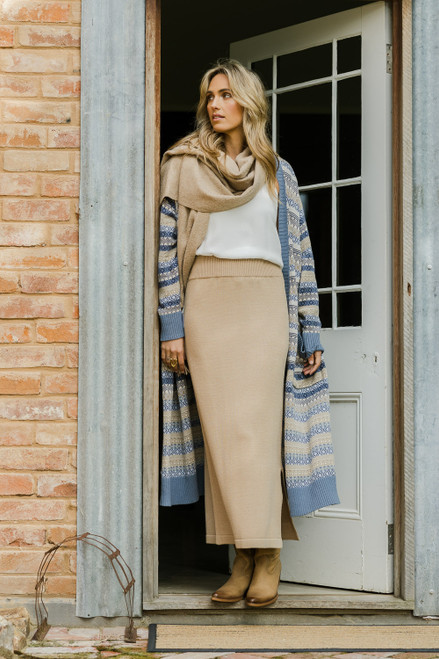 Casual Days: For a laid-back appearance, nothing beats the comfort of sneakers or flat sandals with your skirt. They add a touch of playfulness and are perfect for errand runs or casual outings.
Elevating the Look: Heels, especially stilettos or block heels, can instantly elevate your pull-on skirt look, making it apt for more formal occasions. For winter months, consider pairing your skirt with knee-high or ankle boots.
Accessorizing Artfully
Belts: Even though your pull-on skirt comes with an elastic waistband, don't shy away from adding a belt. It can serve as a stylish focal point and accentuate your waist further.
Jewelry: The kind of jewelry you opt for depends on your skirt's design and color. For patterned or bright-colored skirts, keep the jewelry minimalistic. However, with solid, neutral-colored skirts, statement pieces can add a touch of glam.
Bags: Handbags, clutches, or cross-bodies – the choice is yours. Just ensure that the bag complements the overall look and doesn't overpower it.
Layering Like a Pro
Jackets and Cardigans: These are perfect for transitional weather. A denim jacket can add a rugged touch to a feminine skirt, while a soft cardigan can make the ensemble cozier.
Scarves: Scarves aren't just for winter. Light, airy scarves can be draped artfully in the spring and summer, adding texture and color to your look.
Mastering Patterns and Prints
Mixing and Matching: While pairing patterns can be tricky, it's not impossible. The key is to balance the sizes of the prints. For example, a finely striped shirt can be paired with a larger floral patterned pull-on skirt.
Solid Combinations: If you're apprehensive about mixing patterns, you can always opt for a solid-colored top with your patterned skirt or vice versa. This is a no-fail option that looks chic and put together.
Seasonal Styling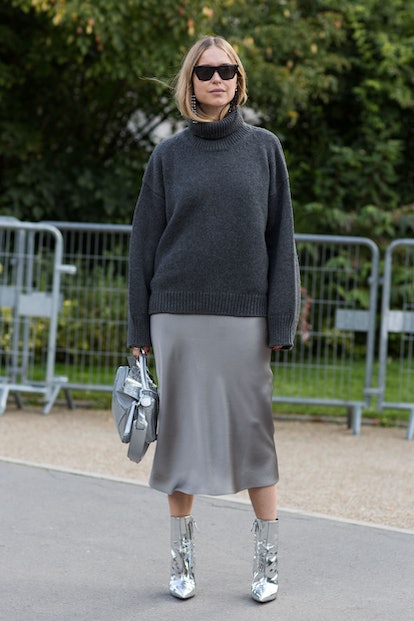 Summer: Opt for breathable fabrics, and pair with tank tops or camisoles. Footwear can range from strappy sandals to open-toed flats.
Winter: Choose thicker materials like wool or knits. Layer with tights or leggings and finish with boots. Don't forget outerwear like trench coats or pea coats to stay warm.
Color Coordination
Monochromatic Looks: Choosing varying shades of the same color can provide a streamlined, elongated appearance. This technique not only looks chic but also offers simplicity in styling. A navy pull-on skirt, for example, can be paired with a lighter blue top for a harmonious look.
Complementary Colors: Venturing into color theory, we find that colors opposite each other on the color wheel are complementary. For instance, pairing a violet skirt with a yellow blouse can be eye-catching and vibrant.
Tailoring and Maintenance
The Right Fit: While pull-on skirts are generally forgiving, it doesn't hurt to have them tailored for a precise fit, especially in terms of length. This ensures you always get the most flattering look.
Care Instructions: Maintaining the integrity of your skirt's fabric is crucial. Always follow care labels closely. Hand-wash delicate fabrics and avoid excessive wringing which can damage the elastic waistband.
Transitioning from Day to Night
Day Looks: For a daytime ensemble, stick to minimal accessories, neutral makeup, and comfortable footwear. A pull-on skirt paired with a simple tee and ballet flats can be perfect for daytime activities.
Night Elegance: Transform your day look by swapping the tee for a sequined top or a sophisticated blouse. Add some statement earrings, a dash of bold lipstick, and swap those flats for heels. Voila! You're night-out ready.
Breaking Rules
Once you've mastered the basics and guidelines, remember that fashion is also about breaking the rules. While these tips provide a roadmap, it's your personal touch and creativity that will make your outfit truly unique.
Mix Textures: Pairing a leather jacket with a delicate lace pull-on skirt, for instance, brings an unexpected edge to a feminine piece.
Bold Choices: Don't shy away from pairing bold patterns, wearing unconventional color combinations, or adding quirky accessories. These decisions can transform a standard look into something memorable.
Personalizing Pull-On Perfection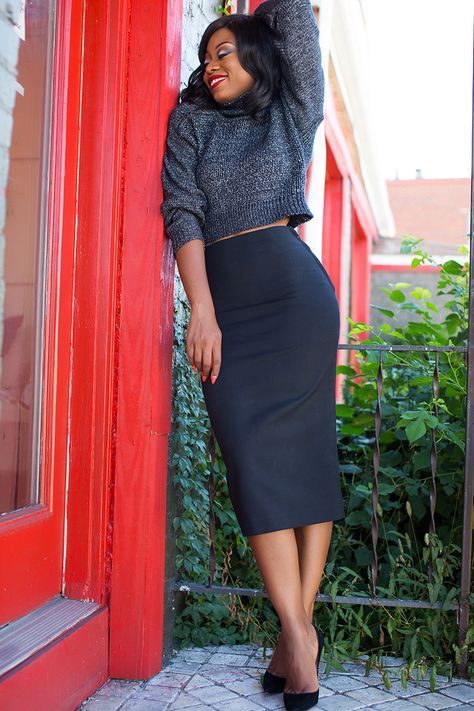 The pull-on skirt stands as a testament to enduring fashion. Its adaptability to various occasions and styles makes it a wardrobe staple. Yet, the true beauty of this piece lies in its ability to serve as a canvas, allowing the wearer to imprint their style and personality.
So, as you embrace the pull-on skirt and the myriad of styling possibilities it offers, remember that the ultimate fashion statement is one that resonates with who you are. Celebrate your individuality, experiment with confidence, and most importantly, wear every outfit with a smile – because that's the real secret to a flawless look.
Final Words
The pull-on skirt, with its effortless elegance and undeniable versatility, has secured its spot in the fashion hall of fame. By following the rules outlined above, you can seamlessly incorporate this timeless piece into your wardrobe, ensuring you always step out in style.
Fashion is as much about personal expression as it is about trends. So, while these guidelines serve as a compass, let your personal style shine through. After all, confidence is the ultimate accessory.